2. part - printed in Min Áigi 06.10.2007
Do you know Sami school history?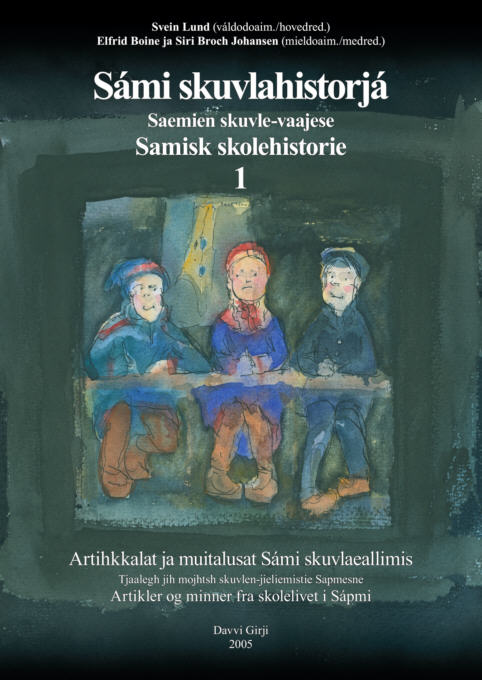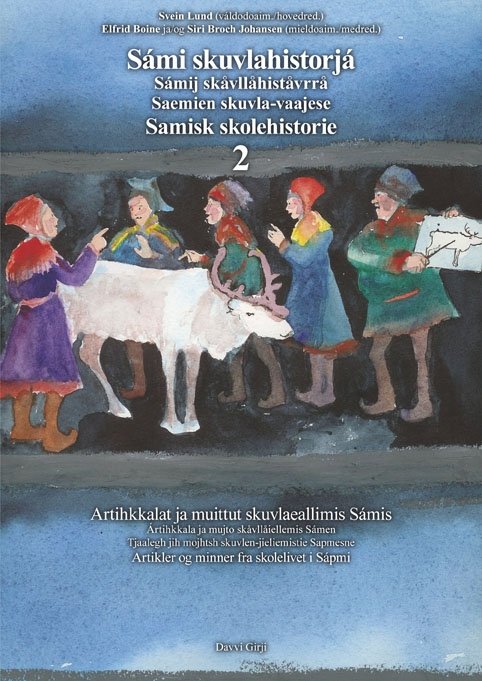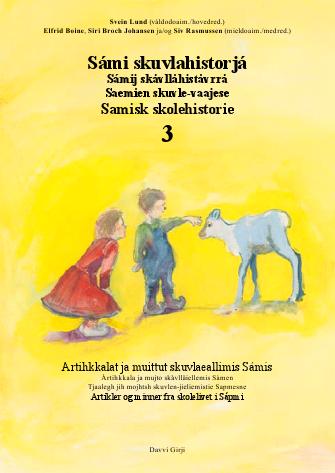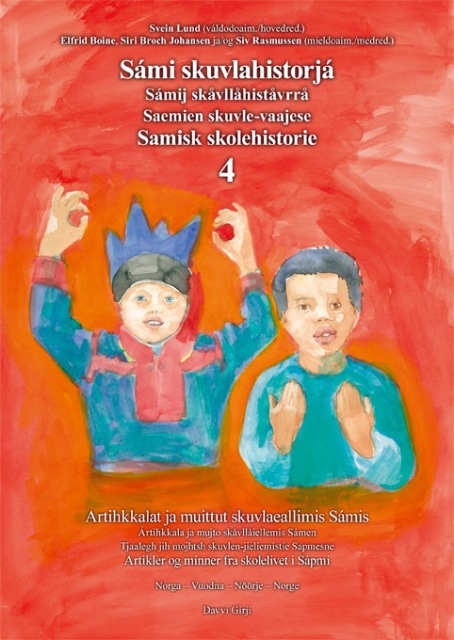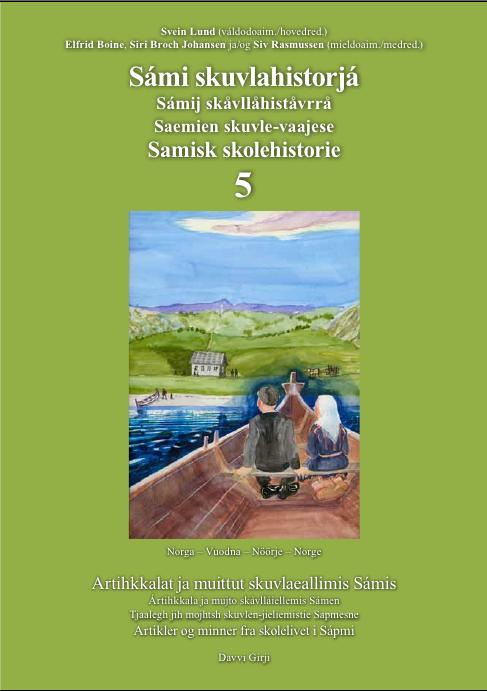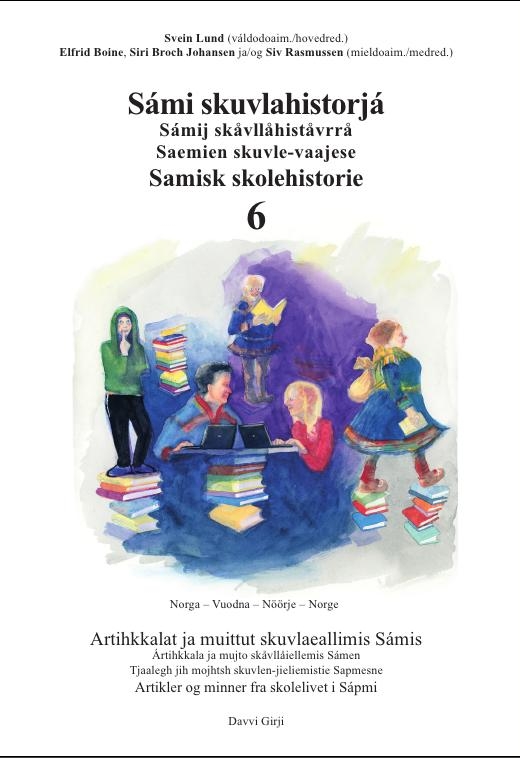 Sámi skuvlahistorjá / Samisk skolehistorie (Sami School History) is a series of books published by the publishing house Davvi Girji. In about 200 articles in 5 volumes there is told about the experiences of Sami children in Norwegian schools, and about the changes in the educational politics of the Norwegian authorities towards the Sami population. The books are published with parallell text in Sami and Norwegian language.
In this web site some of the articles of the first book are also published in English. It would be too much to translate it all, so to make this history available to a greater public, we are translating a series of newspaper articles, which sorted by topics make a summary of stories in the books. So far there are 28 articles published in Sami language by the Sami newspapers Min Áigi and Ávvir. They are also published here in Norwegian and the English version will be published gradually as they are translated.
These articles are edited by the main editor, Svein Lund. Besides him the editing board of the book series consist of Elfrid Boine, Siri Broch Johansen and Siv Rasmussen.
Boundless ignorance
English translation: Simon Aldridge
There can scarcely be anyone who has been a pupil in Finnmark, either Sami or Norwegian, who hasn't had "southerner teachers". At some schools, all the teachers were from the south.
Left - and never came back
Jon Ole Andersen, who was a pupil at Polmak School from 1939-1947 and now lives in Karasjok, tells of what it was like for the pupils to have these teachers:
"It was very difficult at school. In the classroom Norwegian was the only spoken language, and I didn't understand a word. We didn't dare to speak when we entered the classroom. We weren't allowed to speak Sami, and we didn't know Norwegian. We sat there listening, although we couldn't understand a word. It lasted a couple of years before I started to pick up a few things. Of course, the ones who knew a little Norwegian beforehand got a greater benefit from the teaching much faster. Most of the teachers came from the south of Norway. I think the teachers must have found the situation very difficult as well. They didn't stay for a long time in our school. Most of them just stayed for a year, and never returned again."
(Jon Ole Andersen's story, SSH-1)

As Jon Ole recounts, most of them soon returned south. But others stayed, and some have now lived 40-50 years in Sapmi.

Most of them came straight from teacher-training college or they had only 6th form (2-3 years of further education), and many had never been up north before they started work as teachers. Everything was foreign to them; the environment, the culture, the language. Only the school-books and the syllabus were the same as in south Norway. They tried to do their job as well as they could.

Many of them saw that something was wrong and that they did not have capacity to give the pupils a suitable education. But they were not prepared to admit it, either to the pupils or to the parents. To the pupils, the teachers represented the state and power. While collecting articles for a Sami school-history, we received an account of a couple of teachers, a man and wife who were, on the basis of the article, clearly opposed to the policy of Norwegianization of the time. I showed this to a man who had been their pupil nearly 50 years earlier, and he said:
"It's only this year that I have been able to read the pamphlets that these teachers have made of their memories from Sirma. There was something that really surprised me when I read it. It was that they thought the lessons ought to have been in Sami. That they were, in fact, opponents of the policy of Norwegianization that they were forced to practice. We pupils didn't understand that at the time. For us, it was the teachers who represented the supreme authority. We didn't, of course, see the people the teachers had above them and the laws and rules that governed them. We thought it was the teachers' fault. Were they really people who cared about the Sami's situation? I must say that we, the pupils, didn't have that impression."
(Per Edvind Varsi's story, SSH-1)
Polmak old boarding school
(Photo: Ivar Skotte)
Per Edvin Varsi (to the right) tells: "In summer I went fishing together with Einar Gullichsen. Then we were the best friends. But in winter at school the relation was not same good.."
(Photo: Sissel Gullichsen)
Boundless ignorance
We got the title for this article from Ottar Bondevik's story. In his book, "Under Nordkalotten", he wrote of how he felt when, in the 1930s, he first left the south for Sapmi to work as a vicar and teacher: "My ignorance of the people and their circumstances was boundless." This story is from the primary school in Guovdageaidnu. Later, Bondevik became the first headmaster at the Sami folk high school. This piece was first published in the aforementioned book. Today, I have once more been to the primary school boarding house and given lessons to pupils in the first year. As the representative of omniscience, I stood face to face with a flock of fifteen, having the master's desk, - the very symbol of omnipotence, - in front of me.

I was full of a will to fill the empty space left by the absent parents, but the qualifications were lacking. For that, my knowledge of the language was all too poor. It was no use waving my university exam for, in practical terms, I was completely helpless. ...

I attempted, with my bad Sami pronunciation, to say some friendly words to the little ones, but there was no reaction, either to my vocabulary or to my smile. I was only met by fifteen pairs of eyes that constantly followed me and my every move with a curious wonder. What thoughts lay behind that staring glance? The big boy on the back row looked as if he wanted to say: "Why do we have to sit still for so long? That isn't for us children of reindeer-herders. Besides, father and mother said expressly that we were to go to school."
(Ottar Bondevik's story, additional material to SSH-5)
Different world
Many teachers who came from the south, felt that they came to a different world. This was how Harald Eidheim described his experiences on moving from Sunnmøre to Nesseby in 1946 and later to Polmak in 1947, where he worked for a number of years before returning south. There he studied social anthropology and wrote his post-graduate thesis on the basis of his own experiences in Polmak. Later, he lived for a long time in the north while studying Sami affairs.

"There was a shortage of teachers all over the country, and through the radio and newspapers they encouraged also people who had done upper or lower secondary school exam or equivalent education to sign up to rebuild the school in the north.

I was one of those who followed this encouragement, and a day in the end of September 1946 I boarded the old "Midnattsol" in Ålesund with the suitcase in my hand and a telegram from the superintendent of schools in Finnmark in my pocket. . ...

The barrack city which was there so silent and grey in the twilight, and the unknown language which sounded so unfamiliar in my ears gave me a sensation of being far away from home, I was in Norwegian borderland. My body was tingeling with excitement. As the clock drew close to nine I called the office of the superintendent of schools – where I talked to the superintendent himself who wished me welcome in the dialect of Sunnfjord (again an unexpected contrast). ... Aarseth told me that I should teach at Meskelv school in Nesseby commune, which was a community school divided in two, that the school building was a barrack with one classroom and a bedroom and a kitchen for the teacher. Most of the pupils were bilingual Sami/Norwegian, but "not all of them are fluent in Norwegian", he added. Otherwise there were no instructions for the greenhorn, except that I was starting an important work and had to do my best.

... I sensed that I had entered a way of socializing which was completely unknown to me and my tools for thinking weren't sufficient to systemize and understand it. As many others I arrived more or less straight from the gymnasium and had barely seen anything but the life in the countryside in Sunnmøre. I was more or less blank when it came to knowledge about Sápmi. I had probably read Friis' novel – a book by Fønhus and other travel literature – and I had listened to Sami-mission travelling lay preachers, but I soon realized that this weren't applicable in my situation. And I wasn't a pedagogue either. My own curiosity and my moral compass I had from home became my tools for navigation. "
(Harald Eidheim's story, SSH-1)
Harald Eidheim with pupils in Polmak. The pupils are: Nils Johannes Porsanger, Frøydis Aslaksen, Ingrid Dolonen, Elna Holmgren, Marit Tapio, Edvin Johnsen.
(Photo lent by Harald Eidheim)
A historian born
From ignorance can come curiosity and interest. Some who came as teachers without knowledge have later studied the history of north Norway and provided important information about the Sami's ancestors. Among them, Anders Ole Hauglid, who has been leader of the North-Troms history society as well as the North-Troms museum. He came as a teacher to Lakselv in 1964 and worked there for a number of years before moving to Nordreisa. Now he works at the Maihaugen museum in Lillehammer.

My experience is that of the southerner, since it was as a teacher that I came from the outside to start my first job in the classroom 20 years ago. The place was Lakselv and the class 8 B; 32 pupils who were now starting on their final two years of the recently introduced 9-year school. Strangely exotic Finnmark -, it was like arriving in a foreign country: "Everybody speaks Norwegian. Nobody needs to speak Finnish or Sami", was the message we were given.

I at once became an obedient sergeant, who took his Norwegian duty seriously. There was no need for either Sami or Finnish here! – Until the director of the boarding-school made me aware of the fact that Sami and Finnish were their mother-tongue and that the boarding-school was their second home. Today, 20 years later, it's easy to get annoyed. At the time though, the Norwegian school had little or no room for local knowledge or other cultural perspective than what the text-books said was the correct teaching. Besides – what did a recently trained teacher from the south know about Porsanger and Finnmark?!

For me, this encounter with Finnmark was an encounter with the unknown Norway! "Yes, today it's 20 years since the Germans scorched this place", said the shop-owner and host as he poured us gaping southerners a cup of coffee. As newly graduated teachers, we were qualified to teach at a Norwegian school, but totally lacking any form of local knowledge, let alone any cultural understanding of the environment or area from which our pupils came.

This gradually became a concern -, but also an inspiration to find out more about Porsanger, Finnmark and northern Norway. It became a search for knowledge and understanding of what had happened through the ages.

It was here that the historian in me was born.
(Anders Ole Hauglid's story, SSH-5)
Strange southerner-teachers
We began this with a pupil's account of his teachers in the 1940s, and we can finish with another pupil's account roughly 40 years later, from the other end of Finnmark. Lone Hegg (then Jørgensen) attended Sandland School in Loppa from 1982.

"It wasn't always easy to get teachers to come to an out-of-the-way place. Those who came were seldom from Finnmark, but were more often than not people from the south, with tuneful dialects and loosely hanging clothes. Some ate seaweed for dinner, while others liked to go around barefoot, all the year round. We pupils got new ideas and something to giggle at during the breaks. These teachers were probably just as ignorant as us of the fact that the census in Loppa from 1845 shows that 60,6% of the population were Sami."
(Lone Hegg's story, SSH-2)
---
Here you find all the articles in the series:
28.09.2007 Why Sami school history?
05.10.2007 Boundless ignorance
12.10.2007 Southerner-teachers encounter the Sami language
19.10.2007 The start of Sami beginner instruction
26.10.2007 The start of education in reindeer-herding
02.11.2007 From Sami to Norwegian vocational training
16.11.2007 Struggle for Sami gymnasium
28.11.2007 School experiences of Norwegian speaking Samis
14.12.2007 Resistence against Sami language and culture
25.01.2008 A strange world
23.05.2009 On Sami teachers
30.05.2009 Life in boarding school
06.06.2009 Sami pupils were bullied
13.06.2009 Sami content in the teaching
20.06.2009 Pupil as interpreter
04.07.2009 How the children quit speaking Sami
10.09.2010 God does not understand Sami
08.10.2010 The point of view of the Norwegianizers
13.10.2010 Men of the church defending the Sami language
02.12.2010 Sami teachers in old times
09.12.2010 Boarding school life in old times
18.12.2010 Sami pupils in special schools
14.01.2012 The parents' struggle for Sami education
21.01.2012 Reluctance and absence
28.01.2012 The school during the war
04.02.2012 Reconstruction and barrack schools
11.02.2012 Curriculums - for Norwegianization and for Sami school
18.02.2012 The great struggle of the curriculum
11.05.2013 Sami language forbidden? – 1
xx.05.2013 Sami language forbidden? – 2
xx.05.2013 Folk high school for norwegianization
xx.06.2013 Folk high school against norwegianization?
xx.06.2013 Skolt Sami school history – does it exist?
xx.06.2013 Duodji education – in and outside of school
xx.06.2013 Sami in the cities
xx.07.2013 Sami language in teacher education

Sami school history 1
Sami school history 2
Sami school history 3
Sami school history 4
Sami school history 5
Sami school history 6
Sami school history - main page


Write to the webmaster