New articles for Ávvir 2013
32. 28.09.2013
Do you know Sami school history?
Here we present a series of articles printed in Sami language in the newspapers Min Áigi and Ávvir from 2007 to 2013. The basis of the articles are stories which have been collected through the project "Sami school history". There are edited 6 books with stories and articles from school life in the Norwegian part of Sápmi. In these articles there are many quotes from the books, and we refer to the articles the quotes are taken from, to make it possible to read the entire stories there.
The chief editor of Sami school history, Svein Lund, is editing this series of articles. In addition Elfrid Boine, Siri Broch Johansen and Siv Rasmussen are part of the editorial staff.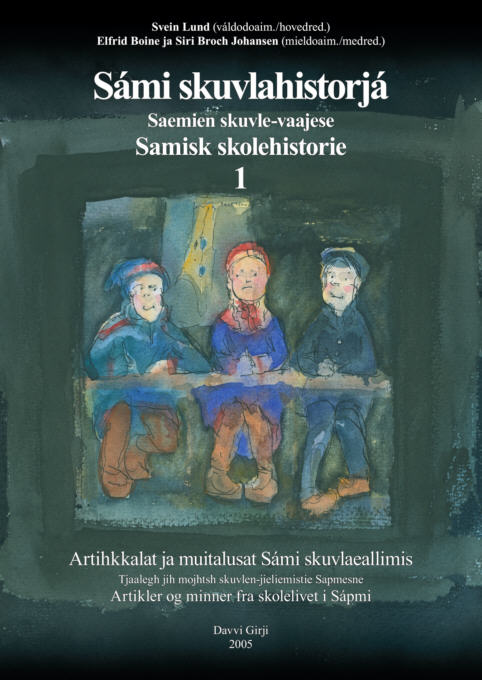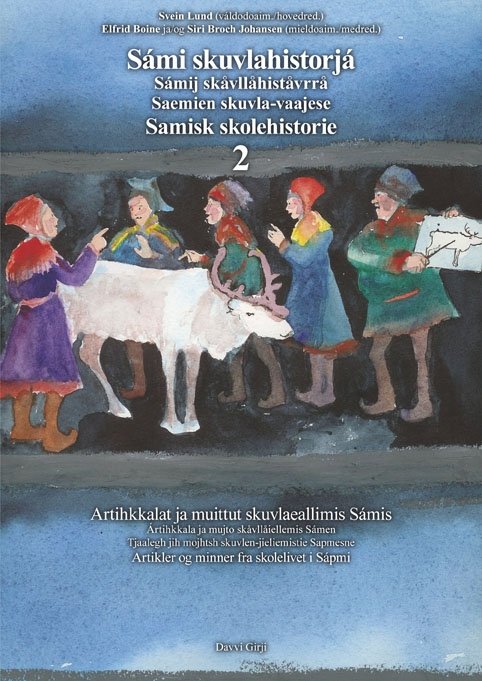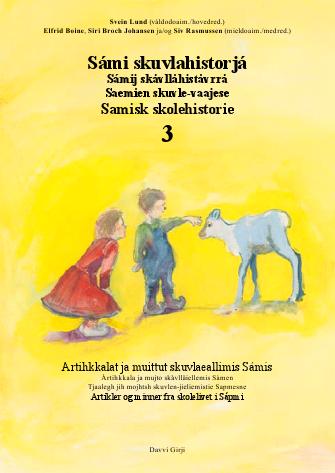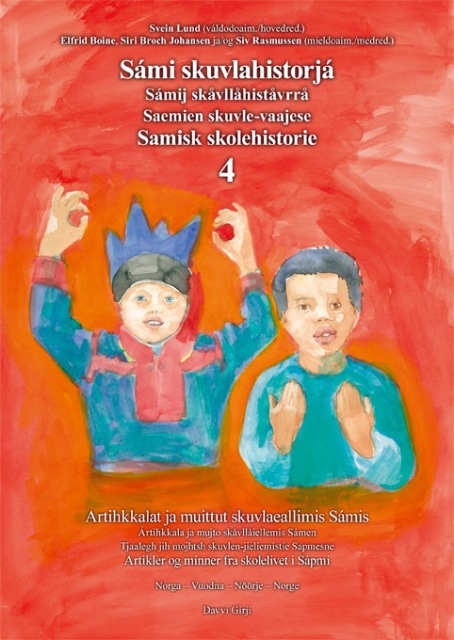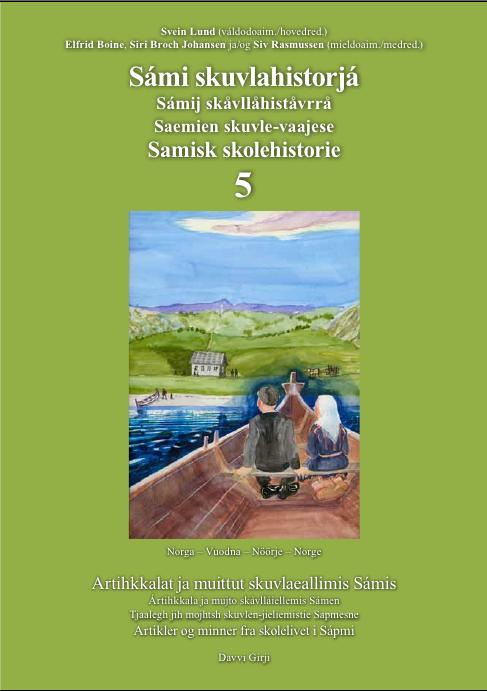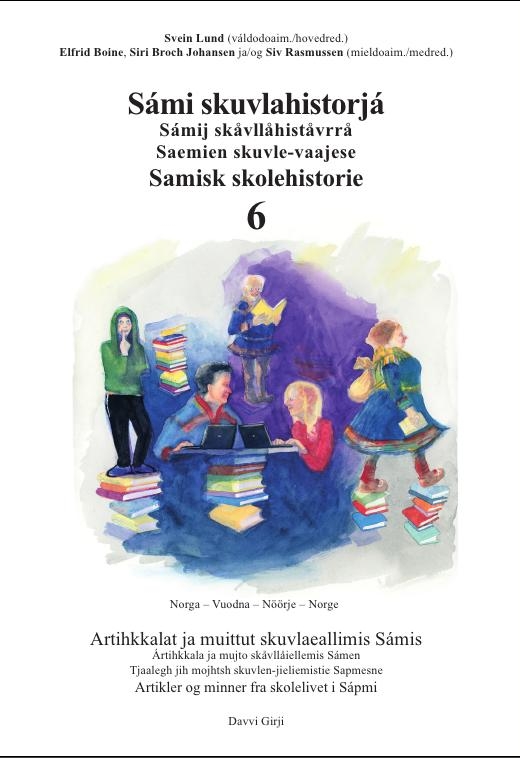 Duodji education – in and outside of school
Duodji, or sami arts and crafts, has always been a central part of Sami culture. Like language has dialects, Sámi duodji also has large regional differences, both in material and patterns. Traditionally most of duodji training happened in the family, but gradually as the school has demanded more and more of the children's time, the school has also become more necessary in maintaining and developing the duodji tradition.
Duodji is today a course in both primary school, secondary school and university college, added to there being held a series of adult education courses, both through schools and educational organisations.
We will here give some glimpses of experiences form duodji training in school from pupils and teachers, and lastly from another form of duodji training.
Duodji as "handicraft"
Before, they didn't call it "duodji" in school, but "handicraft" for the girls and "woodwork" for the boys. This subject was popular among the pupils, and for Sami pupils in an otherwise wholly Norwegian school, these subjects could be a small opportunity to work with something familiar and which they thought of as useful.

One of those who saw "handicraft" as the most useful subject in school, tells:

The only thing I learned from was the classes in duodji, or "handicraft" as it then was called. Because then Edel taught in Sami. We learned to weave and braid band for fur shoes, knit woollen socks and crocheting «speallavearkka» (brim for women's hats). It has been very useful for me, I have later on woven and knitted a lot for sale. My mother taught me sewing of Sami gákti (national costume) and leatherwork at home, but weaving and knitting I learned at school. It was really the only thing I learned at school.» (Inger Marie Sokki Hætta – pupil in Kautokeino from 1947, SSH5).
Techer Olav Malin with two pupils in the woodworking room, 1951.; from left Isak Isaksen Triumf, Áidejávri and Henrik Henriksen Buljo, Máze.
(Source: Muitalusat ja dáhpáhusat Guovdageainnus 10)
Horn- and woodwork in the continuation school
When the continuation school was introduced in Sami municipalities around 1950, there was often emphasis on duodji-teaching. The person who primarily had responsibility for the continuation school in Kautokeino, says that the teachers taught themselves duodji traditions in order to teach them:

In Kautokeino we emphasised practical subjects, housekeeping that is, seams and weaves for the girls and work in wood and horns for the boys. We made a lot out of reindeer horns. We purchased directly from reindeer owners. I was very interested in this, but didn't know so much when I arrived. We were allowed to borrow models that we tried to copy and many of the pupils had already a lot of experience with working with horns. I remember in particular two of my friends who made very nice things already then and who later became well known as good craftsmen – Johan Rist and Heaika Buljo. Sometimes I got help from Lauri Keskitalo, who back then was state consultant in Sami arts and crafts.
Course in gákti-sewing
When the the State handicraft school for Sami started in 1952, Sami arts and crafts or duodji was central. In one of the courses the main content was gákti-sewing, and the teacher of this course tells:

– It was a three month course and I taught it single-handedly. I had to purchase fabrics … It was supposed to be like things used to be. At that time there started to arrive decorative bands in shops, but we weren't supposed to wear them. We bought "kroklisser" [1], long and wide, and besides this one could cut strips of fabric from clothes. Now the gákti from Kautokeino is completely different from what it was back then. Now there are so much decorative ribbons to be bought, and you put one upon the other until it becomes a complete chaos.

We had no syllabus to stick to, we had to make that ourselves. We didn't have any textbooks either. There were only my own experiences, and what older Sami had taught to me. … It was pure practical teaching, and we had no vocational theory. We instructed the pupils in the language they understood best, there was e.g. no one who told us we had to use Norwegian.

(Lempi Mikalsen, teacher at the State handicraft school for Sami from 1953 – SSH2)
Elle Marit Eira making bands for fur shoes.
(Photo lent by Elle Marit Eira)
Progress and setbacks The extent of duodji's place in school has been very varied. In secondary school there was in the 1960's a period where the Sami content had to give way for national teaching plans, and it was not until about 1980 that Sámi duodji was granted a larger share in the school.
One of those who has followed the development of the duodji subject for the longest time in upper secondary school, says:
The school year 1977/78 I attended the weavers course at Sami secondary school in Kautokeino. Before there had been a common course, «seam and weave», but back then there was no weavers course, and another course was «Dress- and costumeseams». In my class there were twelve students, among these three were Sami.
We had no form of Sami duodji, we learned the same as you otherwise would at Norwegian arts and crafts schools.
In the spring 1980 the Sami secondary school contacted me and asked if I could substitute as a teacher, and then I started. I was a part-time teacher in weaving. ... In the 1980's the curriculum was changed, instead of courses in weave and seams there were now Sami duodji. ... We teachers made a curriculum for a three year education in duodji. It really was a challenge, and we were quite happy with the curriculum. But it took a long time to get approval from the ministry. There no one knew anything about Sami duodji. The result was that we for many years taught by a temporary curriculum.
We were well on our way with the three year education when Norwegian authorities introduced a reform for secondary school education, which was called Reform 94. After this there were much fewer basic courses, and duodji was to be subject to «design». At the same time all vocational subjects were put under the model of two years school and two years practice. We tried to work against this, and I wrote letters to the Minister of Education at the time, Gudmund Hernes. And he actually visited our school, with a lady from the department. We had a meeting where we tried to explain what Sámi duodji is and how one should keep the three year education in the school. But it did not help, and I still remember that before the guests left the lady who was with Hernes said that it should have been possible to choose duodji as an elective subject when she was young and in school. Then we became completely resigned, because it showed that she had not understood what we had been trying to tell her.
The first year the pupils were supposed to get to know all materials, so that they were familiar with all materials they were going to continue using the next year. The pupils no longer made useful things, just played around with materials and colours. This is contrary to Sami tradition, which is to learn useful things from childhood on. It also ruined the pupils' motivation. We see that they first and foremost are concerned with the product, not with the working process.
The contents in the general studies are no longer that which belongs to the subject the pupils have chosen, it's supposed to be the same content for all basic studies. I have to say that our pupils don't reach as far as they should in my opinion. There are several reasons for this. One is the curriculum, which demands they learn a little here and there and which devotes little time to making useful things. Another is that most students who start at duodji in secondary school know little practical work upon arrival. They have learned little duodji at home and at primary school, and therefore we have to start almost from scratch.
(Elle Marit N. Eira, teacher at Sami secondary school from 1980 – SSH6).
From mother to child: Karen Marie Eira Buljo's daugther, Inga Karine, is sewing fur shoes. 2001
(Photo: Karen Marie Eira Buljo)
Formalised home schooling
As Ellen Marit Eira points to, duodji teaching has regressed in the home, without the school compensating for this. But in Kautokeino the female reindeer Samis network has tried to strengthen the teaching at homes through a training programme, where duodji training is central, but which also includes other work in reindeer husbandry and harvesting in the nature. One of the main engines and teachers in this project says:

A lot of traditions have already vanished, since mothers and children had to leave traditional Sami work, and this knowledge is not documented through writing or film. We didn't want more traditional knowledge to disappear, and we therefore found out that we had to start a project outside school to preserve this knowledge for the future.

When it became possible to apply for financial support for training in traditional reindeer husbandry, we were two families who applied for project support from the beginning. We started a three year training program «mother/child».

Its purpose was to teach children how reindeer from ancient times has given the Sami a basis for existence, like through food, clothes, transportation and business income. ... An important goal was to make the Sami community aware of what a great treasure the Sami traditional knowledge in reality is.

There was great interest for the «Mother/child project» and many applied for financial support for the traditional training and taught their children different kinds of Sami crafts.

We have six children, and all of them participated in the training. When we started the project the youngest was 7 years old, but the eldest was 23. So some children were in primary school, others in secondary school and one was a full time student in the project. For the children who were in primary school we took six weeks of reindeer herding leave every year, and besides this they were taught in their spare time. I just wrote that when the school does not have any opportunity to teach reindeer husbandry or any other traditional knowledge, then we must take responsibility for that training ourselves.

I had already earlier to a certain extent taught the children duodji and other work that relates to reindeer husbandry. But when it became a formal project, where we were to document everything we did, then the children were much more interested.

Duodji has been the largest part of the project. All the girls have been taught to sew fur shoes, for themselves and for sale. Some have also sewn "pesk" (traditional Sami fur coat), which is a lot of work. If duodji is to provide income, it is not enough to sew just one kind of thing. There is also need to develop new forms of duodji products and new working methods. Therefore they have learned to make duodji products for sale. And it is in my opinion completely necessary to learn that one should make the sales products properly, so that you do not ruin the trade. Some have also contrived to make different kinds of pictures where they have used pieces of leather with and without hair as decoration. They have also made pictures of cloth and yarn.

In the end the children received their testimonies, and there it was written what they had learned, about reindeer and the reindeer shepherd dog, about cooking and duodji.
---